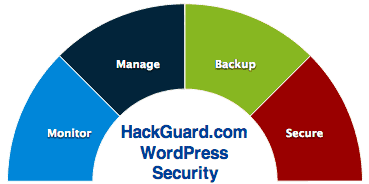 "I'm tired of worrying about WordPress security and updates."
If this sounds like you then you are in the right place. We all know how important it is to maintain the latest versions of WordPress and plugins.
Can your business afford 40ish cents a day to secure your website?

Are you a web designer and tired of having to drop everything in order of fix your client's website following a WordPress plugin update gone awry?
Hire HackGuard.com to help manage and secure your WordPress site for just pennies a day.
"Who can help me prevent my website from being hacked?"
HackGuard.com will proactively Monitor, Manage, Backup and Secure your WordPress website, 24/7, 365 days a year, money back guaranteed, for pennies a day.
Would you like to spend less time worrying about the security of your website and more time building your business?
Our staff is personable, always available by phone, (619) 479-6637, and ready to help 24/7, 365 days of the year. Real-time chat available as well.
We will help you develop a custom website security plan that fits the needs of your website.
We will improve the loading speed of your WordPress website.
We will "visually" monitor your website for malware and required updates.
We will work to improve the loading speed of your WordPress site.
We will ensure your WordPress and WordPress plugins versions are updated at least weekly (though likely more often).
We will assist you in installing and maintaining the WordPress Security plugin of your choice. We currently support Better WP Security, Bulletproof Security and Wordfence.
We will monitor your website for file changes and notify you if we see anything suspicious.
We will maintain a "just in case" backup of your core WordPress files and database.
Upon completing an update of WordPress or a plugin, we will "visually" review your website to verify everything is working.
This service will not be outsourced to a foreign country. We are a California-based business.
Unlimited WordPress help and advice is included free of charge as well (with most email or phone reply backs within 10 minutes).
We will even help move your website to another web host if you wish (free of charge).
All of this good-hearted WordPress service, security and support is yours for as little at 16 cents a day (if you order our 10 WordPress service pack).
Protect your future: WordPress Anti-Hacker insurance included!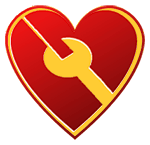 "So, what if my website is hacked?"
HackRepair.com will repair your hacked website (at no extra cost).
Order HackGuard 10 Pack Service
A Few Service Notes
We do not run WordPress theme updates or shopping cart plugin updates except by request. If your theme is not customized we will run theme updates for you though only when you specifically request we do so.
This is not a backup every file on your website type service. Only WordPress related files and database will be periodically backed up, within your account, "for emergency recovery purposes."
Care And Feeding
Maintaining an updated website is an essential proactive security measure. Ongoing management of your passwords and internal security policies remains your responsibility.
Due to potential issues with plugin updates, in particular, our service is not automated. A living, breathing person living in San Diego, California, is managing these updates for you "manually" several or more times a month for just $8.49.
If it becomes apparent this service is not working well with your WordPress website we will notify you and promptly refund your monthly payment.
Questions About Our Managed WordPress Security, Monitoring and Update Management Service?


Please call me for personalized service, Jim Walker (619) 479-6637, or toll-free (800) 639-6442.