What is HackGuard.com service?
Imagine this – a website security expert with over 20 years of experience is dedicated to managing your website's security. Picture someone updating your WordPress plugins every week and monitoring your site around the clock for any errors that might crop up. That person is Jim, The Hack Repair Guy. He'll even ensure regular backups of your site, so you never lose a thing. Have a WordPress question or need some advice? Just give Jim a call or shoot him an email. Should your site ever get hacked, Jim will patch it up at no extra cost.
What's the best part? This top-tier service from Jim costs less than what you'd likely spend on a quality cup of coffee once a week.
Sounds too good to be true? How about a monthly money-back guarantee, anytime phone support, near-instant email replies most days of the week, and simply top-notch service for a change?
Is your website's security worth the price of a good cup of coffee once a week?
For more details, call Jim Walker (619) 479-6637 for more details.
"HackGuard service is not automated"
We will monitor your website for malware and required updates.
We will monitor your website for file changes and notify you if we see anything suspicious.
- Manage WordPress updates.
- Manage WordPress plugin updates.
- And manage the general health of your WordPress website at any webhost you choose.
We will maintain backups of both your database and website files to the cloud.
The backing up of your website "offsite" allows us to recover damaged files and even move your site if your hosting account fails.
If your site is compromised we'll repair it free of extra charges (a $200+ value)!
WordPress security is our business. Our goal is to secure your website against random bots and malicious hackers.
"Who can help me prevent my website from being hacked?"
Services Included:


✓ 24/7 Security Scanning
✓ 24/7 Uptime Monitoring
✓ 24/7 Google Search Monitoring
✓ 90 Day Cloud Backups
✓ Unlimited Support Requests
✓ Firewall Setup
✓ Phone, Email and Chat Support
✓ WordPress Core Updates
✓ WordPress Plugin Updates

✓ Security Audit & Hardening

HackGuard service is just
$14.95 a Month *
Free By Request Services Available:
✓ Cloudflare CDN Setup
✓ Database Optimization
✓ Image Optimization
✓ Two-Factor Auth Setup
✓ Search Engine Optimization (SEO) Review and Setup
✓ Free Restore Assistance

* Web Designer?
Ask us about our -$5 per website discount offer

Bonus Services Included FREE!

✓ Malware Removal
✓ Defacement Monitoring
✓ Blacklist Monitoring
✓ Malvertising Monitoring
✓ Uptime Monitoring
✓ Weekly Reports
✓ And a Lot More...
WordPress Anti-Hacker insurance is included with HackGuard service!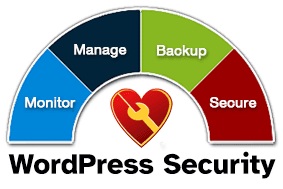 "What if my website is hacked?"
HackRepair.com will repair your hacked website free of charge.
The videos below are from actual HackRepair.com and HackGuard.com clients.
Questions About Our Managed WordPress Security, Monitoring and Update Management Service?


Please call me for personalized service, Jim Walker, (619) 479-6637, located in San Diego, California.
Jim Walker was recommended to me when my site got hacked about a year ago. Jim got on it immediately and got it taken care of. I've since hired him to do my ongoing maintenance for my website, and now he takes care of all my updates and security related maintenance, so I don't have to think about it. Having Jim on my team has been such a blessing. If anything security related on my website comes up, Jim and his team take care of it immediately. He even saved me money I was spending unnecessarily between two hosting services.