Email phishing and junk email are like death and taxes… Acceptance is the wisest course of action—oh, and reporting spam, of course.
[ Key Takeaways
Gmail has decent back-end filtering for junk email, but reporting spam to Google Gmail can help improve filtering in the future. It is important to note that marking bad emails as spam and not just deleting them will help Gmail better filter your inbox in the future. ]
Most folks I chat with about email issues seem overwhelmed with the day-to-day junk email burden. And when I ask, "Have you reported it?" the line usually goes quiet.
Gmail has some decent back-end filtering, such that most of the bad email senders will fail in their attempt to slam you with their bogus offers and phishing attempts.
   What is Phishing?
Phishing is a type of scam in which criminals disguise themselves as trustworthy organizations or individuals to trick people into giving them sensitive information, such as passwords or credit card numbers.

But if you don't tell Google that the email you receive is spam, it's less likely they'll filter that email or type of email from hitting your inbox in the future. Deleting junk email or not reading it does not count as a filter where Gmail is concerned.
To reduce spam in your Gmail inbox, follow these steps:
With your eyes on your inbox, select the messages you wish to mark as spam (#1 below) and then click the little circle with an exclamation mark (#2 below).
That's it.
Mission accomplished!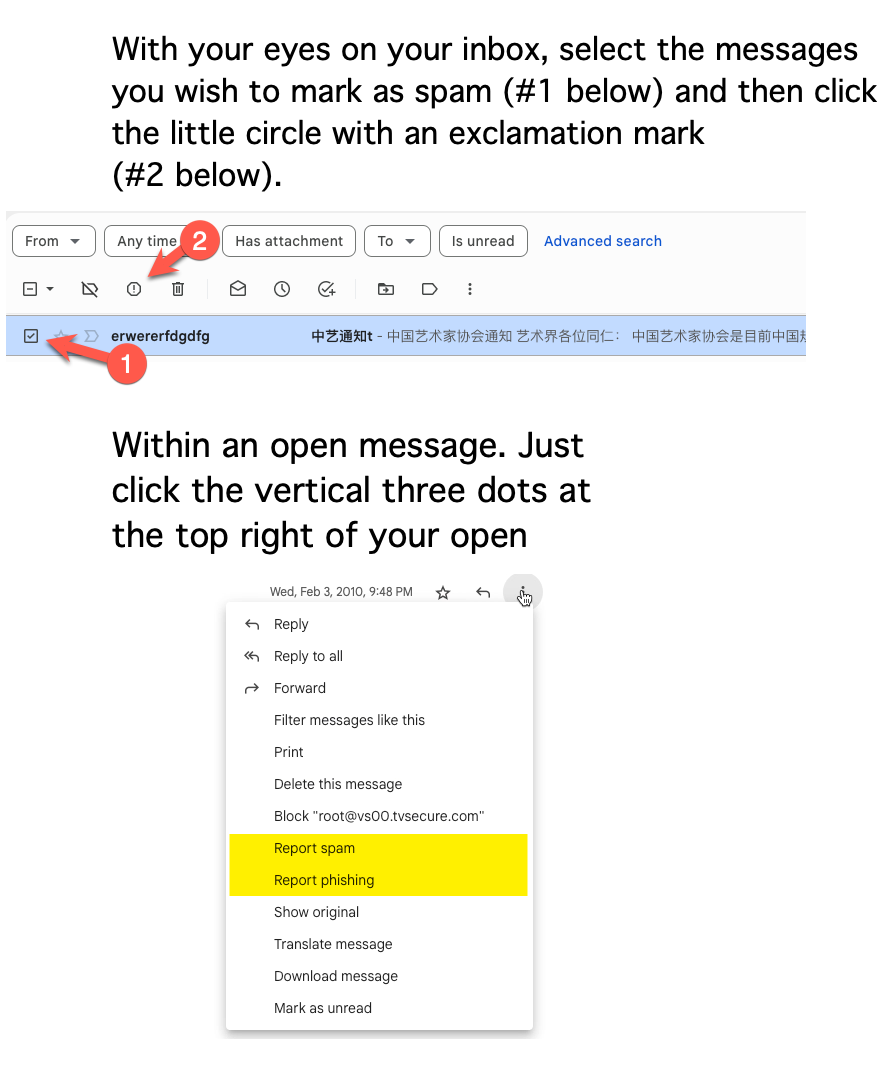 Yes, if you inadvertently open the junk email message, you may likewise mark it as spam there as well (see above example).
Just click the vertical three dots at the top right of your open message window. There, you'll see a "Report Spam" option. Click it to help Gmail better filter junk email messages in the future.

___
What is HackGuard.com service?
Based in San Diego, California, HackGuard.com service provides a personalized white label ready WordPress management and security service experience for just pennies a day.
---
Disclaimer:
This post was written by Jim Walker for informational purposes only, was not solicited, nor paid for respectively.